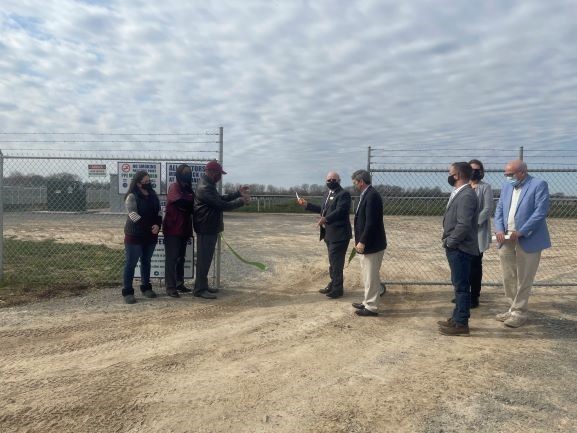 Ribbon cutting held for new solar power plant in Stuttgart
By Kelly Connelly - February 1, 2021
(L-R) Candace Prine, Carla Gipson, Napoleon Davis Jr., Rick Gales, Bill Halter, Ryan Boswell, Jennifer Payton and David Leech were among those present at the solar power plant's ribbon-cutting ceremony.
A ribbon-cutting ceremony for the Scenic Hill Solar power plant in Stuttgart was held Tuesday, Jan. 19, off of Old England Highway north of Stuttgart. The solar power plant promotes energy-efficiency and cuts costs for the Stuttgart School District and the city of Stuttgart. Bill Halter, CEO at Scenic Hill Solar, attended and spoke at the ribbon-cutting ceremony. He said the Scenic Hill Solar plant is an important investment for the city.
"This power plant not only produces savings for the district, but it also brings capital into the community of Stuttgart. There is more than $2 million of capital here that has been invested," Halter said.
The school district's solar power plant was turned on in November and was the first of its kind in Stuttgart, but not for long. Scenic Hill Solar turned on the city's solar power plant in December. Stuttgart interim mayor Becky Burgess said the city's plant powers city buildings.
"Right now, the only parts of the city that will be using the solar power are the city buildings. At a later time, it is supposed to go out to the community, but I am not sure when," Burgess said.
In addition, Halter said a separate solar power plant for Producers Rice Mill is
"likely."
"When we got started on this, both the mayor and the Chamber of Commerce set a goal that not only would Stuttgart be the rice capital of the world and the duck capital of the world, but they wanted to be the solar capital of the Southeastern United States. We are well on our way to making that happen," Halter said.
Stuttgart School District Superintendent Dr. Rick Gales was also at the ribbon-cutting ceremony. He said the financial benefits awarded by the solar power plant will be minimal at first, but the long-term effects are what makes the project worthwhile.
"It really is about a project that is beyond us. The district in 20 to 50 years is really going to see the benefits of it," Gales said.
In addition, Gales said by using solar energy, students will learn an important lesson about energy-efficiency.
"I think that is a big statement for our students from an educational point of view," Gales said.
After a successful build, Scenic Hill Solar makes a charitable donation. The Imagination Library of Arkansas County received a $5,000 grant in honor of the district's new solar power plant. Halter said Scenic Hill Solar officials chose the nonprofit because it provides age-appropriate books for children in Arkansas County.