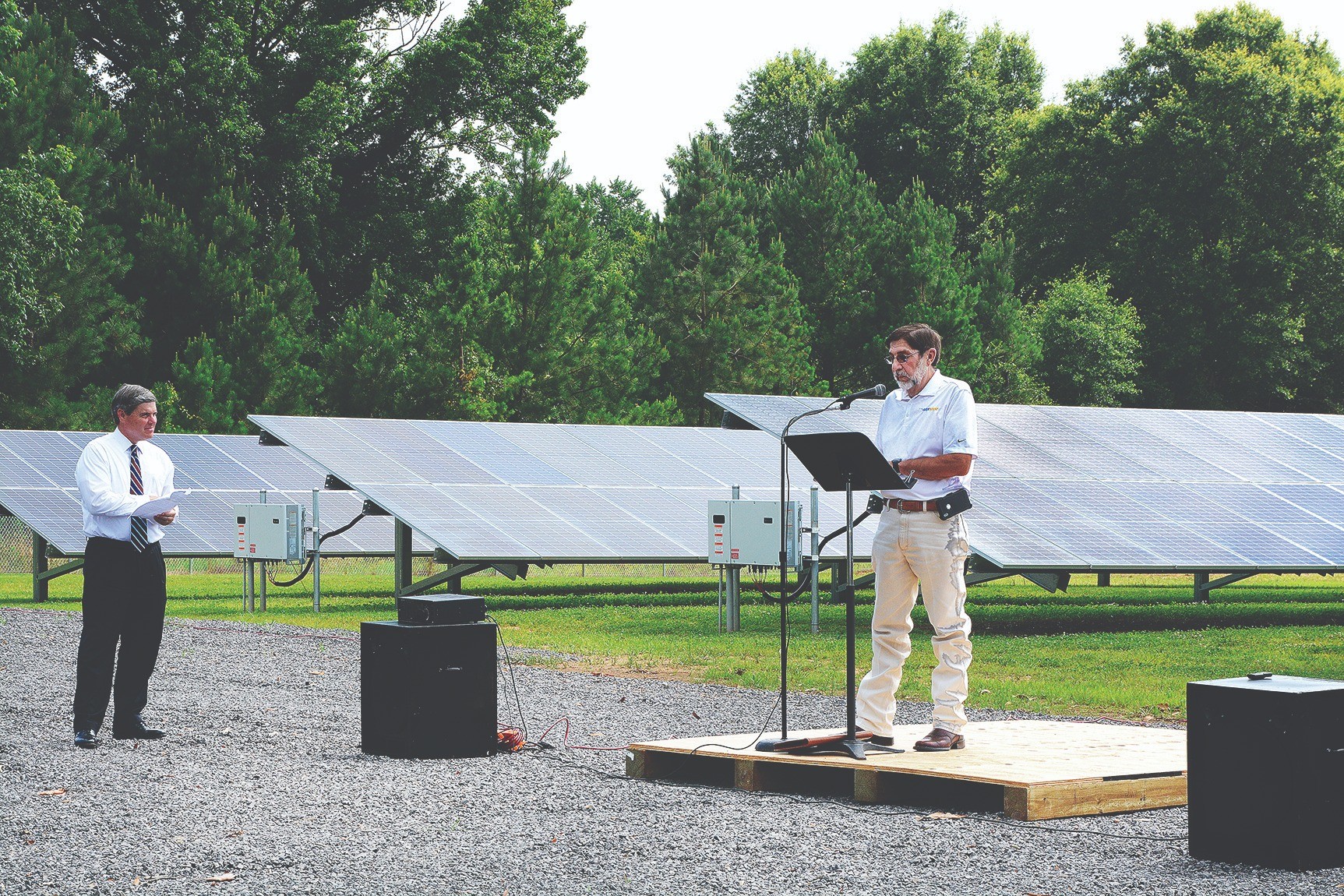 DANVILLE — The first solar power plant in Yell County and the third solar power plant in the Arkansas River Valley was dedicated last month.
Located near the intersection of State Highways 27 and 10 west of Danville, solar power developer Scenic Hill Solar of North Little Rock completed a 360-kilowatt solar power plant for telecommunications provider Arkwest Communications. The plant is the first remote net-metering plant in Arkansas that will meet nearly all of Arkwest's electricity demand. The plant will provide solar energy to 24 meters for Arkwest.
The plant has 1,150 solar panels, uses a fixed-tilt system and will produce more than 697,500 kilowatt-hours of electricity in the first year of operation and more than 19.36 million kilowatt-hours of electricity over the next 30 years. It's also expected to reduce carbon emissions by 13,687 metric tons, which is equal to driving over 33 million fewer passenger car miles or eliminating the burning of more than 14 million pounds of coal.
Arkwest was founded in Yell County in 1939 and provides long-distance telephone service, high-speed internet and digital TV. Bill Halter, CEO of Scenic Hill Solar, said Arkwest is a fantastic client.
"They are really terrific people and we thoroughly enjoyed working with them," Halter explained. "We just couldn't have had a better partner in this project. The power plant was built in five weeks and is performing quite well. Arkwest really did a terrific job of improving and beautifying the site. The treeline roadway coming in looks like a golf course.
"They have a lot of pride in the project. Arkwest communications is leading the way into the 21st century. We're really proud of that relationship, proud of what they have done. It is one of the very first solar power plants in Arkansas that is producing 100 percent of power at Arkwest, an absolutely terrific project."
Arkwest plant manager Tom May said they were proud to have this state-of-the-art renewable energy that reduces the overall electricity cost and at the same time is beneficial to the environment since it reduces the carbon footprint.
"Arkwest Communications strives to be a good steward of the environment and a leader in technology advances," P.T. Sanders, president of Arkwest, said. "With this new solar power plant, we are able to meet that goal while saving money on our electricity bills. It is exciting to know that our facilities are now powered by renewable energy."
May said little did they know in the beginning, the perfect location was owned by an employee who was willing to sell the property. Many family memories were made and always be treasured at the Arkwest Communications Power Plant Burrows Site, he said.
Halter went on to say he and his partners will be talking to more potential clients in the River Valley.
"Both Arkwest and the Clarksville facilities, they are really just forward-leaning, forward-looking developments by a company and a community," he said. "We are proud of the relationship, grateful, but confident these are the first of many to come. We continue to have terrific discussion with folks.
"There's not an electric consumer in Arkansas where we can't provide solar power and it is cost effective for them. That is how these prices for the plants have fallen. You will see more of this. It has all the environmental qualities. It is a win across the board. It could not have been cost effective three years ago."
Original Story: https://couriernews.com/Content/Default/Local-News/Article/Yell-County-solar-plant-to-power-Arkwest/-3/83/56493